Color Block Dry Erase, White Frame
$70.00
Description
We turned our Color Block Dry Erase wall decals into framed wall art because not all walls are created equally. The framed decals are a great alternative for textured walls or if you want the option to rearrange your decor. They make your To Do lists and doodles look like masterpieces, plus they look great even when they're not in use.
Available in Small (14" x 18" x 1.25") or Large (16" x 24" x 1.5") Frames. Mix and match colors with frame sizes. Pair with other Writable Decals for more design options.
Hanging hardware is included. We recommend Expo dry erase markers. (Do not use chalk, permanent markers or any other writing tool.) 
Please note: Color Block Dry Erase Frames are only available to ship to the contiguous United States.
What's Included
1 Framed dry erase board. Hanging hardware included. (Dry erase markers not included.) Choose either Small or Large size frame.
SMALL: One, 14" x 18" x 1.25" white framed decal
OR
LARGE: One, 16" x 24" x 1.5" white framed decal
BLIK is a design studio and product development firm based in sunny Venice, CA. In addition to creating our own line of wall graphic products, we've also developed products for the Smithsonian, the Gap, Land of Nod, MTV, Veer and many others. At BLIK, we design, conceptualize, manufacture and install custom graphic environments worldwide for individuals and corporate clients though our BLIK Studio, custom graphics division.
At BLIK, we think flat is phat.
Recent Designs
/
$12
Blik Surface Graphics
Buy Now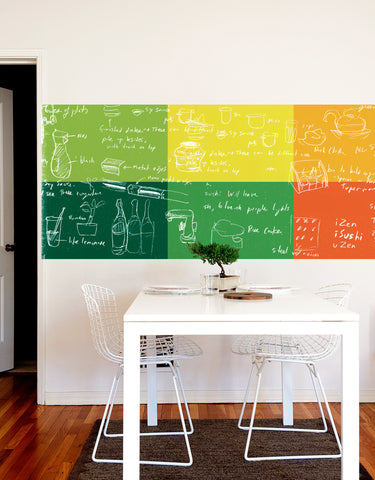 /
$12
Blik Surface Graphics
Buy Now
View all designs