Alps Pattern Wall Tiles
$45.00
Description
Pattern Wall Tiles bring bursts of pattern into standard home and office spaces in a whole new way. With Pattern Wall Tiles, you can create an accent over a bed, on an interior door or frame a small section of a wall. The tiles are self-adhesive and can be repositioned and moved easily. They are completely customizable and can be cut, crafted, and arranged in a number of ways. Rotate them, combine patterns and use on most smooth flat surfaces.
These self-adhesive fabric wall tiles are eco-friendly, non-toxic and free of both PVC and phthalates. See our FAQs on Pattern Wall Tiles for more information about the care of this product.
What's Included
2 wall tile sheets per package
2 24" x 41.5" printed sheets
Mina Javid holds a BA in Architecture from the University of California at Berkeley and a Masters in Architecture from the University of California at Los Angeles. After working for several years in a prominent Los Angeles architecture firm, she launched her design office, Mina Javid Design, in 1999 with the intent of affording strong, contemporary design to all scales and aspects of the built environment. This multi-disciplinary approach includes architectural, interior, furniture, and product design. Her sensibility and design palette is continually inspired and refined through her travels throughout Asia, Africa, South America, Europe, and the Middle East.
Recent Designs
Buy Now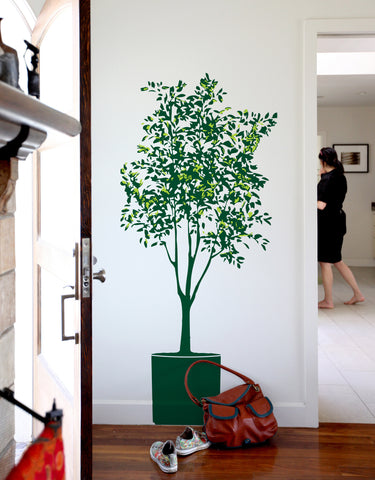 Buy Now
Buy Now
View all designs