Crystal Diamond Pattern Wall Tiles
$12.00
Description
Pattern Wall Tiles bring bursts of pattern into standard home and office spaces in a whole new way. With Pattern Wall Tiles, you can create an accent over a bed, on an interior door or frame a small section of a wall. The tiles are self-adhesive and can be repositioned and moved easily. They are completely customizable and can be cut, crafted, and arranged in a number of ways. Rotate them, combine patterns and use on most smooth flat surfaces.
These self-adhesive fabric tiles are eco-friendly, non-toxic and free of both PVC and phthalates. See our FAQs on Pattern Wall Tiles for more information about the care of this product.
What's Included
2 Wall Tiles per package
1, 12" x 24" printed tile, teal on white background
1, 12" x 24" printed tile, gray on white background
Kirath Ghundoo is a UK based surface pattern designer and artist with a passion for bold color, pattern and print. With a love for interior spaces, she designs wallpapers, paints and draws original artworks. Kirath launched her first wallpaper collection, 'Mix 'n' Match 11' at 100% Design, London in 2011 and since then has become a favorite of the design and interiors press both in the UK and internationally, with Living etc labelling her as "the queen of pretty geometrics." Her original abstract paintings and drawings for residential and commercial spaces are playful, joyful and exuberant in style.
Recent Designs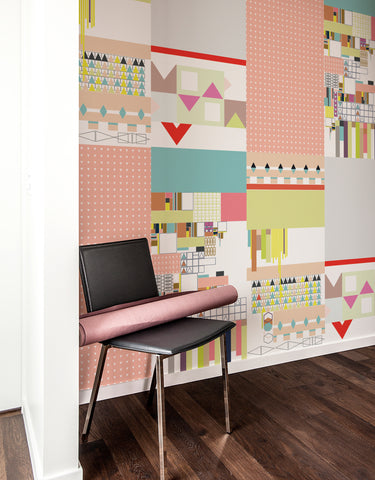 Buy Now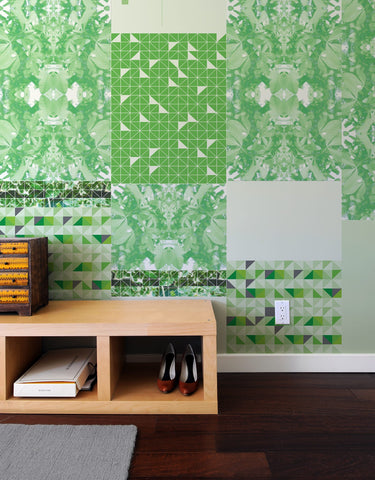 Buy Now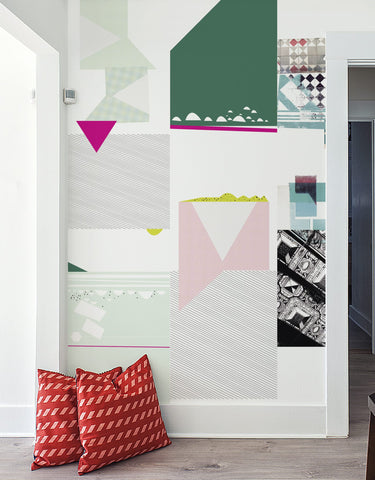 Buy Now
View all designs